What is Whistle42?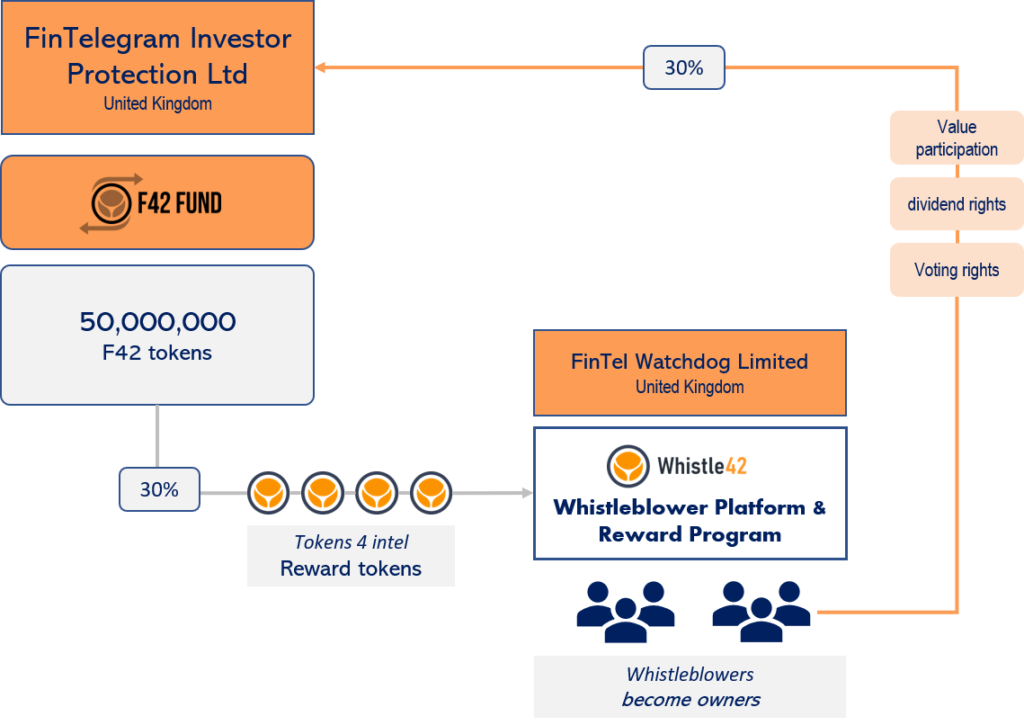 Whistle42 is the new whistleblower platform powered by FinTelegram Investors Protection Ltd and operated through its subsidiary FinTel Watchdog Limited. Both companies are registered in the United Kingdom.
The Whistle42 platform (www.whistle42.com) is an evolutionary development of FinTelegram's previous whistleblower system, which has been in place since 2018.
The new Whistle42 platform is technically independent of FinTelegram and offers two new features:
Reward Program: the F42 Whistleblower Reward Program offering F42 tokens as a reward for intelligence;
Community: the Whistleblower Community in the form of a forum.
Both functionalities are available in experimental launch mode for the time being and will be adapted continuously. Depending on the acceptance of Whistle42 and its features, we may or may not decide to terminate some or all services and/or implement different services.
Earning ownership
15,000,000 million F42 tokens have been allocated to the F42 Whistleblower Reward Program, the principle of which is straightforward and focused. We want whistleblowers to participate in the success and performance of FinTelegram as a critical success factor of FinTelegram. Each F42 token embodies ownership in FinTelegram, as F42 tokens are proxies for FinTelegram shares.
The F42 tokens receive the potential dividend payments attributable to the represented shares. FinTelegram's enterprise value embodies the intrinsic value of the F42 tokens. In the near future, the F42 tokens will also be tradable.
How it works
Registered whistleblowers can earn F42 tokens and thus FinTelegram ownership by
submitting qualitative whistleblower information and/or
being active in the whistleblower forum as a community member.
According to the Reward Table, you will be rewarded for every whistleblower information submitted and every discussion in the forum. However, Whistle42 retains the right that its appointed administrators and moderators decide whether a submitted piece of information or discussion is qualitatively valuable or not.
You can see the number of F42 tokens earned in your profile dashboard on Whistle42.